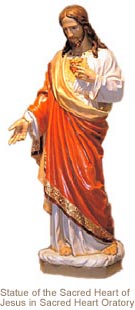 Sacred Heart Oratory's mission is to proclaim the Gospel of Our Lord Jesus Christ. We invite men and women of good will to join us in worshipping and enriching their knowledge of the Scriptures in the traditions of the Roman Catholic Church. In an urban setting of West Center City in Wilmington, Sacred Heart Oratory strives to witness the Good News to its neighbors and its community, with an emphasis on evangelization and a commitment to effect positive change in the lives of God's poor.
Join us in fellowship no matter what your faith tradition is. Let us live generously and be present for one another. Let us open our own hearts. Let us know God and know each other.
Mass
Every Sunday at 9:00 a.m.
Monday – Friday at noon
Sacrament of Reconciliation
following noon Mass
Children's Religious Education
Sundays at 10:00 a.m.